The next thing I like to do each year is get a picture of all of my children with Santa's hats on! It turned out great – I thought. I usually pay more for the hats but this year I got them all for a 1.00 at the dollar tree. I would say it was hard to get my oldest son to put on a SANTA hat but he did (he remembered how I love the Santa hat pictures). Well here is the picture!
We always put our Santa hats on sing Christmas Songs too! The kids have so much fun. They all take turns in choosing what to sing. Even my oldest still sang with his hat on in the van!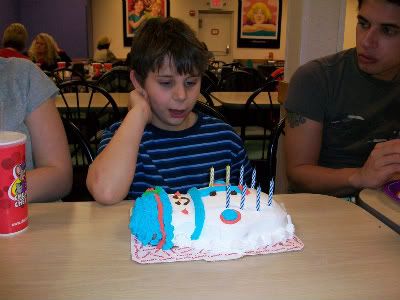 Then in December my last child has a Birthday a few days before Christmas! We usually go to Chuckie Cheese. However a Carvel Snowman Ice Cream Cake? This is the first time we did that.


Because of Kayla's leg we were so busy with appointments we were going to wait until after Christmas to do his Birthday at Chuckie Cheese's — UNTIL — he said HEY MOM – Its my Birthday today I am getting ready for my party at Chuckie Cheese with a smile on his face.


So I just went by Publix and ran in not knowing what I was going to do. Then I saw the Snowman Ice Cream Cake and it was perfect. Jonathan was happy as could be! Off to Chuckie Cheese we went ~ I was lucky my oldest son could make it to his Party on such short notice!